Just two days old and ready to travel. Pip has a fish and a book in his backpack, his hat and scarf to keep him warm. And, of course, a present for aunt Susan, who has invited him. His mom Ping, his big sister Ting, and his baby sister Penny were giving him advice.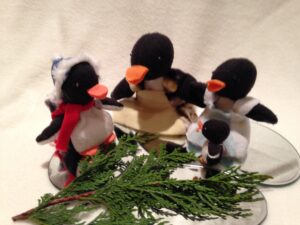 He got a sleepy shot beforehand, because it wasn't very comfortable being flattened in a padded envelope. They deliver mail only once a week in Antarctica, and only flat envelopes.
Goodbye Pip! Have a safe journey.