Half Price Drop-In to Benefit Fire Victims This Week:
November 13-17, 2018
Our hearts are breaking for all those who have lost everything in the recent fires. We usually spend this time of year preparing Poekies for our annual holiday sale, but in light of the fires, we've decided to shift our efforts towards helping those effected by the tragedy. If your child wants to help, we are offering half-price drop in rates for kids who join us in making Poekies for those who have been affected by the fires. We will donate all of them this coming weekend.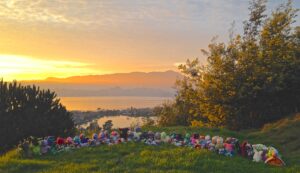 ---
November 18th:
We sent 15 Poekies up North this weekend. They were received by volunteers as precious gifts. Thanks to all the kids who helped sew these Poekies, made well wishes cards and helped wrap them. Hopefully we can finish some more in the coming three days.