We did so many things this summer that we had to make a page about it!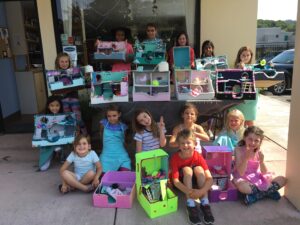 Three Weeks of Housebuilding Camps
Fifty one houses were built. There was a waiting list, but we just couldn't fit more kids and houses in our upstairs room. Everyone had a blast and made amazing houses. We were all exhausted at the end of each of those weeks. Here is the page where you can see all the houses: https://poekienook.com/?p=3175 , and here is a link to a short film we made of one week: https://www.youtube.com/watch?v=Q5VmM8JsdVw&t=21s
---
Make Four Travel Bags Out of One Sweater
In the beginning of summer, we created a no-sew project that involves an old sweatshirt and a pair of scissors. Such an easy way to make some bags! The project was published in the magazine of the Southern Marin Mothers Club and we made a  film of it: https://www.youtube.com/watch?v=K26zn68p-F8
---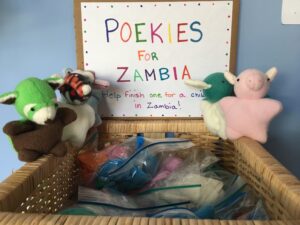 Poekies For Zambia
One of our Poekie makers has a big sister who left to work in the Peace Corps in Zambia for three years! We learned that the kids there play with dolls they make from plastic bottles and hair extensions. So we decided to send them some Poekies. Many girls finished Poekies that were left behind in the past year. By end of summer we made about 30 of them. Some of them have already arrived in Zambia.
---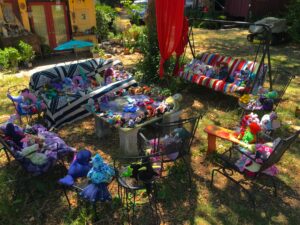 Mid Summer Picnic
On the Fourth of July weekend we took all the Poekies from the Poekie Nook for a picnic in a magical garden. Everyone got their photo taken, so we have a full list again and our online gallery is updated: https://poekienook.com/?page_id=190
---
---
Creekside Fridays
We helped sponsor our Tam Valley Community Friday night get together. While the band played and the parents partied, we entertained the kids with some craft projects. We made sun pompoms, felt books for writing and beaded necklaces. It's always fun to work with the little ones that aren't old enough yet for Poekie making, and it's always good to see all our neighbors!
---
New Poekies Were Born This Summer
---
Craft-Karate-Math Camp
For one week we collaborated with our neighbors, Mojo Dojo and Mathnasium, giving  different aspects of child development a workout. Everyone had fun. We had lots of boys for a change.
We also partnered with Roco Dance for five weeks, but we never found time to take a picture!
And a Serious Summer Project Was Made
Only during the long and easy summer time do we spend the time making things like this…
---
Poekie Theatre Camp
The last week of summer we created a Poekie Play, The Stolen Gems. Eight girls worked really hard to write the script, make the set and costumes and then learn how to coordinate all their Poekies on the stage. We were so impressed with the final result!
Here is a link to the film: https://www.youtube.com/watch?v=If1Nw0d-BZI
---
Solar Eclipse Party
Apparently our prayers didn't help and we had a very foggy, almost drizzly eclipse. Yeah, it got slightly darker, but was that from a raincloud or did the sun really eclipse? But, we had fun anyway, made lots of felted planets and geodes, and we painted space rocks. The food was pretty good too! All in all a perfect end of a perfect summer.
We thank every kid, every parent and every Poekie that helped make this summer our best one yet!